Thank you to the amazing Aimal for tagging me. Sorry this took me forever. On another note I also have another summer tag and ironically I was tagged by Summer HAHA so I'll get to that one as soon as possible since summer is about to be over–well sometime in September, but don't want to be to late on that. Okay I rambled..but on to the tag….
Lemonade: pick a book that started off bitter, but got better.
  The Raven Boys by Maggie Stiefvater
I actually DNF-ed this book the first time I tried reading it. I was already a hundred page in and nothing was happening so I got bored. But then one day I decided to just give it another shot and when the plot got moving I was so invested in the story. I actually re-read it from the beginning and finished the whole book in a day. Now the series has become one of my favorites (ahhh Blue and Gansey is one of my favorite OTP) I'm still not over the fact that The Raven King has been postponed till next year.
---
Golden Sun: pick a book that made you smile beyond compare.
Can You Keep A Secret by Sophie Kinsella 
Okay I'm not a really chick lit fan, but this has to be one of the most hilarious book I've read so far from just reading the first page. It wasn't even the romance that had me smiling or laughing (I honestly could have cared less if there was romance or not, but it's a chick lit novel after all) but rather the main character. She was just so hysterical.
---
Tropical Flowers: pick a book set in a foreign country.
The Shadow of the Wind by Carlos Ruiz Zafon 
I just started reading this book and enjoying it so far. It's a detective novel and historical fiction. The setting takes place in post-war Barcelona, Spain.  The novel is actually a story within a story.
---
Tree Shade: pick a book in which a mysterious or shady character was first introduced.
Harry Potter series by J.K. Rowling  
Of course I have to go with Professor Severus Snape. Of course we are already aware of his motives, but he was quite suspicious in the beginning. You weren't sure if he was a bad guy–I know for me I thought he was going to be this evil guy.  But I was so naive when I first read the books. I was not going to do analyze his character. If you come off scary looking and show disdain towards the main character, my 9 year old self will think you're the bad guy.
---
Beach Sand: pick a book that was grainy, and the plot barely developed.
 Shatter Me series by Tahereh Mafi 
I honestly hate to say this but unfortunately the Shatter Me trilogy is probably one of the few series in which the plot was underdeveloped. I was going to go with The Selection as well but I tend to use that a lot in some of the tags I have done. I enjoyed Shatter Me and it has become one of my favorite series, but we all know the plot was actually nonexistent until probably the last 40-50 something pages in the final book. But if we have to really look at it overall, the books weren't necessarily plot driven but rather character driven especially with Juliette's character development throughout the entire series.
---
Green Grass: pick a character(s) that were full of life, making you smile.
The Princess Bride by William Goldman
One of the books that I have read in which the characters are so diverse and fun to read about. The characters here are so rich and vivid that it's hard to imagine that they don't exist somewhere in an alternate fantasy world.
Another second would be Robin Goodfellow (aka Puck) from Julie Kagawa's Iron Fey series. He is lively, full of mischief,
and had me laughing out loud with every line he said. I'd love to have him as my best friend.
---
Watermelon: pick a book that had some juicy secrets.
 And Then There Were None by Agatha Christie 
This book is filled with secrets and you can't trust anyone.  If you haven't read this, this is the story of ten people stuck on an luxury island, slowly their secrets come out as they are killed off one by one.
---
Sun Hat: pick a book that had a vast, big universe/setting.
 The Little Prince by Antoine de Saint Exupery 
I think of LOTR by J.R.R Tolkien and A Song of Ice and Fire series by G.R.R. Martin, but I haven't read them so I'm not going to choose those two.  Although The Little Prince absolutely pales in comparison in terms of intricate plot and characters, this book takes place in a vast universe–literally. He travels from planet to planet. If the setting is not vast, then I don't know what is.
---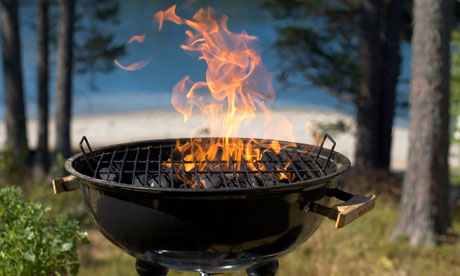 BBQ: pick a book in which a character was portrayed as a hunk.
UMMM 90% of the young-adult books and new adult books that I read, the main hero is always portrayed as a hunk, albeit, this term may not be the exact description in the book. However, you already know that the guy is good looking, hot, and perfect, and at times the unattainable for the main heroine who thinks she's too plain for him… *eye roll*
The first person that came to mind was actually Dimitri from The Vampire Academy series since Rose won't stop gushing about how hot he is.
---
Summer Fun: Pass the tag on.
Since I'm trying to tag different people for all the tags (so don't think I don't love you guys if you're not tag 😉 ) I'm going to do, I'll tag these next fellow bloggers:
and anyone else who wants to do this tag!
If you already have done the tag or don't like doing book tags then totally disregard.
Have an awesome day everyone! ❤