Top Ten Tuesday is a weekly meme hosted by The Broke and the Bookish. Each week they provide a topic, and you choose ten books that answer that topic. This week's topic is top ten hyped books I've never read.
Before I get started, it's been weeks since I last participated in the Top Ten Tuesday meme. The past topics just didn't interest me as much. I like this week's topic so I decide to partake this week's Top Ten Tuesday.
There are many hyped books that I have yet to read and maybe the reason why is the fact that there is so much hype that I have this fear that I will just be disappointed. Regardless, if the story piques my interest I will probably read it. This list was actually quite difficult to compile because it seems that I've missed out on a lot of well-known books due to my stubbornness to read them.  When a book gets so much hype, I am just not as eager to read it. But that's just me. Nevertheless, some on the list I do plan to read. Anyways on to my list. In no particular order:
The Great Gatsby by F. Scott-Fitzgerald
I'll start with this classic, The Great Gatsby. For someone who has a love for classic literature, it still boggles me as to why I have not read this one.  Even my non-reader friends have read this, though, they were the unfortunate souls  who had to read it for English class. The reason why I haven't picked it up is the fact that I'm just having a difficult time trying to pick it up (if that even makes sense to anyone).  Don't worry for The Great Gatsby lovers, I'll read this someday. 😉 And no, I will not use the excuse of watching the movie because as much as I love Leonardo DiCaprio, I actually haven't watched the film.
---
Throne of Glass series by Sarah J. Maas
This one is not even because of the hype. I've been meaning to read the series for awhile now after reading the synopsis. An assassin as our main heroine, how awesome is that?! I actually just want to own the books first and start reading them.
---
To All The Boys I've Loved Before by Jenny Han
Truthfully this book doesn't interest me one bit. I like contemporary young adult romance, but this one just looks meh. I liked Jenny Han's The Summer series, but the plot for this book seems dull.  Furthermore, after reading reviews for this book, I was actually quite put off. Me being such a critical reader, who analyzes everything, this book I already know will  probably not be for me.
---
The Da Vinci Code by Dan Brown
I've owned this book for several years now, but for some reason, just like The Great Gatsby I'm having difficulty picking up.  Every time I grab the book from my shelf, I just stare at the cover page in contemplation whether or not I should open the book….
---
An Ember in the Ashes by Sabaa Tahir
Don't worry dear friends, I am actually going to read this one. I mean the cover and the title alone got me. Just like The Throne of Glass series, I'd just like to have a copy of my own before I read it.
---
Daughter of Smoke and Bone by Laini Taylor
I've heard some great things about this series so I'm definitely looking forward to reading the books. And we get a kick-ass heroine…that's all I need.
---
 The 5th Wave by Rick Yancey
I've heard there is going to be a film adaptation, so might as well read it before the movie comes out, that way a year from now I wouldn't be so surprised when my friends recommend me to read the book… 😉 HAHA
---
 Ulysses by James Joyce
I just don't want to bother with this one. Stream consciousness writing….I've already had that experience with William Faulkner. No, thank you Ms.Joyce.  I'm sure there are those who love you, but I'm afraid I won't be one of them.
---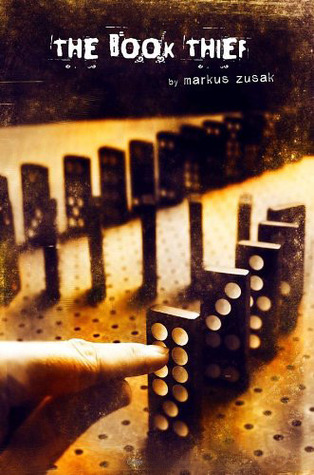 The Book Thief by Marcus Zusak
I know I'm going to get a lot of flack for this or at least people questioning why I haven't read it yet. Wait until you read the last one on my list. It just doesn't pique my interest. I think it's one of those books that is receiving a lot of hype and I'm just being so stubborn on not wanting to read it. I think it will take a while until I will be interested enough to read this.
---
  The Mortal Instruments series by Cassandra Clare
Surprised? I know I'm going to catch hell for this, but I just can't get into the series. I will admit I did read the first book, but can't bring myself to read the rest. I wasn't impressed. Truthfully, I am actually more interested in reading the Infernal Devices than this one. However, now that there is a TV show adaptation for the series, I may just give it another try. I hear that after book three it doesn't get any much better, so that's another reason as to why I'm even more hesitant to give it another chance.
Are any of these books in your list? Feel free to comment and share.  Have a great day everyone. 🙂