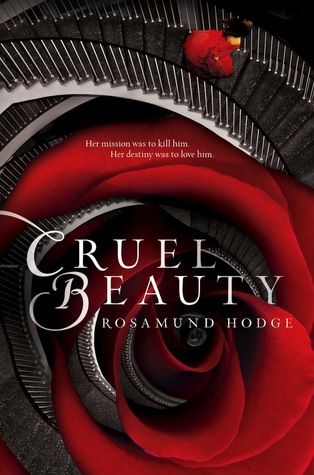 Title: Cruel Beauty
Author: Rosamund Hodge
Genre: Young-Adult, Romance, Fantasy
Publication date: January 28, 2014
Pages: 342 pages (Hardcover edition)
Rating: 3.5 stars out of 5
Synopsis:
Courtesy of Goodreads:
Based on the classic fairy tale Beauty and the Beast, Cruel Beauty is a dazzling love story about our deepest desires and their power to change our destiny.

Since birth, Nyx has been betrothed to the evil ruler of her kingdom-all because of a foolish bargain struck by her father. And since birth, she has been in training to kill him.With no choice but to fulfill her duty, Nyx resents her family for never trying to save her and hates herself for wanting to escape her fate. Still, on her seventeenth birthday, Nyx abandons everything she's ever known to marry the all-powerful, immortal Ignifex. Her plan? Seduce him, destroy his enchanted castle, and break the nine-hundred-year-old curse he put on her people.But Ignifex is not at all what Nyx expected. The strangely charming lord beguiles her, and his castle-a shifting maze of magical rooms-enthralls her.As Nyx searches for a way to free her homeland by uncovering Ignifex's secrets, she finds herself unwillingly drawn to him. Even if she could bring herself to love her sworn enemy, how can she refuse her duty to kill him? With time running out, Nyx must decide what is more important: the future of her kingdom, or the man she was never supposed to love
Thoughts:
Fairy tale re-tellings are one of my favorites to read and this one I actually enjoyed to an extent.  Let me start with the world building. If you don't know me, I'm a big critic when it comes to world-building in books–everything has to be clear and explained; and most of all there actually has to be world-building in the book.  Ms. Hodge did not disappoint in that aspect.  Not only I found it to be great, it was rather creative in which Ms. Hodge incorporated mythology.  She used Greek Gods and their stories to explain as to why the world was the way it was. Though at times it can get confusing, I liked it mainly  because I love mythology. There is a backstory and everything made sense.
Now onto our main character. Nyx is definitely not a  nice beauty. She has flaws and I actually loved that about her. I love that she's not so innocent and weak-definitely not your pure-hearted heroine.  However, my main issue with her was the hatred she holds for sister, Astria. I understand as to why her feelings are like that but she was what I would call "bipolar" when it came to her sister.  She claims she hates her for being in a situation that she doesn't want to be in; however, she then whines about being a terrible sister to her and hopefully that Astria forgives her. Then when she sees her again, she hates her.  It's basically this:
"I hate my sister…"

"Oh I'm a total b*tch and it's really not her fault…."

"Wait I take it back. I hate her and I want to throttle her.  It should be her, not me!"
At times it became sort of repetitive that I began to become annoyed with her.  Ignifex, our 'beast' was an intriguing and mysterious character. He's definitely not unattractive nor 'beastly'. His interactions with Nyx were my favorites.
There is a "love triangle" in the book, but I honestly wouldn't really call it a love triangle. You have to read it for yourself because I don't want to spoil it.  The romance between Ignifex and Nyx was cute. It didn't start out as insta-love. Nyx has made a few attempts to kill him immediately which I actually found hilarious. Though it wasn't as developed as I wanted it to be, I still enjoyed it, nonetheless.
This is a breakdown of my overall verdict of this book: the beginning I found odd, the middle being the best part, and the ending just terrible, hence I gave it a 3.5 stars. Having read other reviews, most found the ending confusing. I wasn't confused with the ending in a sense that I didn't know what happened. Rather I found it to be weird and quite unexpected. To sum it up, I hated the ending.
Despite my hatred for the ending, I did enjoy the book. The writing is strong and stunningly passionate and I have to give props to Ms. Hodge's imaginative vision in her fairytale retelling with a mythology and fantasy edge that will surely entertain readers who are looking for something fresh, bold and at times, even compelling.  If you like re-tellings with a twist, then this book may be for you.