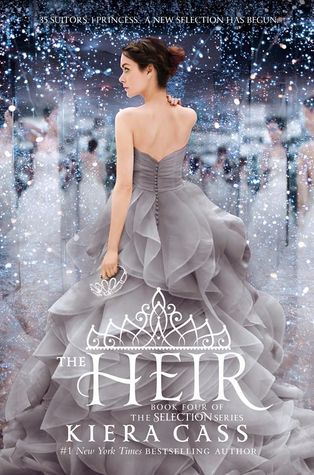 Title: The Heir
Author: Kiera Cass
Genre: Young-Adult, Romance, Dystopia
Publication date: May 5, 2015
Pages: 352 (Kindle edition)
Source: E-book
Rating: 3 stars out of 5
Synopsis: According to Goodreads
Princess Eadlyn has grown up hearing endless stories about how her mother and father met. Twenty years ago, America Singer entered the Selection and won the heart of Prince Maxon—and they lived happily ever after. Eadlyn has always found their fairy-tale story romantic, but she has no interest in trying to repeat it. If it were up to her, she'd put off marriage for as long as possible.  But a princess's life is never entirely her own, and Eadlyn can't escape her very own Selection—no matter how fervently she protests.  Eadlyn doesn't expect her story to end in romance. But as the competition begins, one entry may just capture Eadlyn's heart, showing her all the possibilities that lie in front of her . . . and proving that finding her own happily ever after isn't as impossible as she's always thought.
Thoughts:
The Selection series by no means, one of my top favorite series, but I can assure you that the books were entertaining, nonetheless.  Hence, I was excited to read The Heir which as to why I immediately got it on the first day of its release and finished it in just a few hours. Though, I still question as to why this book is labeled as dystopia because it really isn't.  The world building is nonexistent and we are just told of what happened after Maxon and America got married. Anways, The Heir takes place 20 years in the future where the caste system in Illea has been eliminated.  Unfortunately, it is not all rainbows and sunshine in Illea because the eradication of the system is causing major social unrest. As a result, Maxon and America convinces their eighteen year old daughter Eadlyn to hold another Selection in order to "buy time" to figure out how to solve this issue and also to serve as a distraction for the people. I am actually disappointed in Maxon and America for forcing a "marriage" on their daughter who is obviously unprepared and doesn't even have marriage in mind just to find a way to solve the problems that are arising in Illea.  I'm sure there are other solutions, but obviously it's for the sake of the story.
I have a love/hate for Eadlyn's character.  She's strong-willed and independent; however, comes off as ignorant and insensitive to people's feelings. Though she doesn't mean to be harsh, she should think before she speak and needs to stop acting like a spoiled, selfish brat.  The world does not revolve around her.  I also find it odd that she has no knowledge of her father's and mother's selection nor how her parent's friends (Aspen, Marlee, Lucy, May, etc. -who also happens to live with them in the palace) are connected to them.  For strong characters in the previous books, Maxon and America are so different in this one. America is all of a sudden calm, sweet, and spoils her children, not that there's anything wrong with that.  I just didn't imagine that she would lose her spunk and her sassiness. As for the Selection guys, I think they were one of the best parts of the book.  Each of them are unique in their own ways. I do find myself rooting for one of them; however, looking at how the story is panning out, those who are left have equal chances in winning Eadlyn's heart. What I loved the most in this book is Eadlyn's relationship with her three brothers especially her twin Ahren. It makes me wish that I had my own brothers.
As for the writing, it fell flat. I never praised nor criticized Ms. Cass for her writing style because I was sort of indifferent towards it in her last three books. You can say I was far too distracted to really care about the writing with all the cute and fluff that is America and Maxon. Although, with The Heir, I can't help but be critical this time. My issue is when authors tend to tell instead of show, which I got from reading the book. She doesn't show us what's happening, how Eadlyn's feeling. She just says it and that's probably one of the main reasons why I feel so disconnected with Eadlyn as the narrator. Seeing how the story progressed, I think this book is more character driven and we'll get to see Eadlyn's character develop especially since she's very closed off and isn't open to anyone getting to know her. I am actually looking forward to that because I want to be able to connect with her and fully like and be invested with her character. With that being said, I did like the book, but I know it could have been better.  Moreover, I am most definitely still looking forward to the next one since we are left off with another cliffhanger!