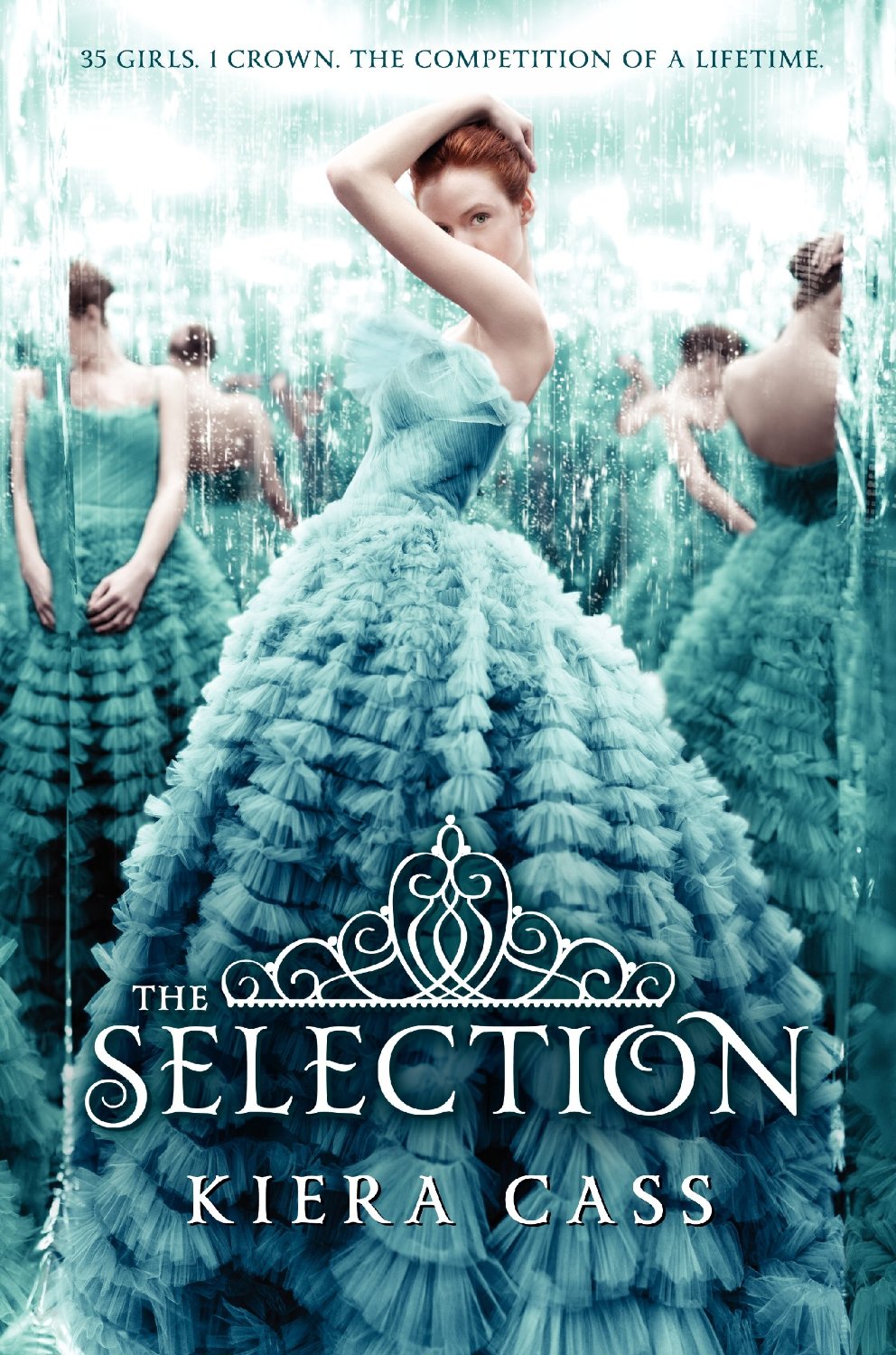 Title: The Selection
Author: Kiera Cass
Genre: Young Adult, Dystopian, Romance
Publication date: April 24, 2012
Pages: 336
Source: e-book download
Rating: 3.5 stars out of 5
Synopsis
"For thirty-five girls, the Selection is the chance of a lifetime. The opportunity to escape the life laid out for them since birth. To be swept up in a world of glittering gowns and priceless jewels. To live in a palace and compete for the heart of gorgeous Prince Maxon.  But for America Singer, being Selected is a nightmare. It means turning her back on her secret love with Aspen, who is a caste below her. Leaving her home to enter a fierce competition for a crown she doesn't want. Living in a palace that is constantly threatened by violent rebel attacks.  Then America meets Prince Maxon. Gradually, she starts to question all the plans she's made for herself–and realizes that the life she's always dreamed of may not compare to a future she never imagined." -Goodreads
Thoughts
Okay, I'm rating this book purely on my enjoyment of it and not on some scale deciding whether it was great literature or not. I needed some fluff reading and this one definitely was worth a few hours of my time.  I'm aware that a lot of the reviews from Goodreads for this book weren't pleasant, but I will admit I actually liked it. The plot is nothing spectacular and the world building is rather superficial; however, I looked past that since I just wanted something cute to read. Therefore, if you like stories about matchmaking reality shows (even if you don't like actually watching them), and you never get tired the trope where the prince falls in love with the girl who makes it clear that she's the only girl around who isn't in love with him and his title, then you will probably like this book a lot.  Basically if The Hunger Games (events that lead up to the games-the interview parts and dressing up,) and The Bachelor had an offspring, then The Selection would be it.
Before I give my opinion, I would just like to address a certain aspect of the book that may have prevented it from reading it.  Our main female's character name: America Singer.  
 Firstly, in this new country named Ilea (formerly the United States) why would they allow a child born anywhere to be named after the former regime? The Hunger Games had ridiculous names too, but it was just so far in the unspecified future that nobody really bats an eyelash.  Her name just kind of felt like forced symbolism. Oh who am I kidding I hated her name, although at some point I guess I got used to it.
The book starts off by introducing us into America's way of life. The society is classified into numbers- a caste system numbers 1-8. You could either be really rich, in the middle, or poor. America's family is a five and in their situation, there is always someone still hungry and no second helpings.  America's family isn't exactly rich so when The Selection sends her a letter, her family (specifically her mom) is persistent that she sign up. If she won this, her family would be better off. They could actually provide and eat comfortably. However, America is already in love with someone else and doesn't want to join the competition.
What I liked about this book is the characters of America and Prince Maxon. America is a young girl who is really confused by her feelings. She has Aspen, who she's loved for two years and Maxon, who is easy to talk to and she does start to have genuine feelings for.  Aside from her being still in love with Aspen while she's in the competition, her personality is very likeable. She is very down-to-earth and kind. She cares for the other competitors and even her maids. She even gives tips to her friend on winning over Prince Maxon. I also like the fact that, while the other girls went for the most glamorous dresses, she always opted for the simplistic style that she felt most comfortable in.
Prince Maxon, on the other hand is shy and open and trying to figure out what he's doing. I honestly thought he was going to be arrogant and a total jerk when he meets America, but he wasn't.  He's very sweet and is really sincere in finding a future wife among the 35 girls. He opens up to America about his insecurities which I thought was really cute and made me like him even more.  As for Aspen he was okay.  Although I didn't feel like I got to know him enough to form a strong opinion his and America's relationship, he seemed  like a genuinely good guy who is working hard to improve his lot in life.  At times he was a little arrogant and maybe sexist in a way, but it's nice that he only wants the best for America.
Despite my liking for the characters, what made me gave this a 3.5 stars is the fact that it's billed a dystopian novel when it's really a love triangle with some dystopian elements.  This isn't necessarily a bad thing, but because it's labeled a dystopia I expected a lot more.  There isn't a clear explanation given for how the society ended up this way.  We were just told that it's been that way for ages. Yes we learn some history, but it just wasn't enough and it was covered halfway through the book.  There are also rebels who keep attacking the royal family, but their aims are obscure, and we have no idea what they've fighting for. The society is described as repressive, but we never really see this in action.  Hopefully, these things will be more focused on in the other two books.
Overall, I do like the concept of the book; however, just don't have so much high expectations before reading this.  It's a cute read and if you just want some light-hearted romance then this book may be just for you.